A történelem során számtalanszor tapasztalhattuk, hogy egy maroknyi hozaméhes spekuláns romba döntötte a világ gazdaságának jelentős részét. A klasszikus, arany- és hitelpiaci anomáliák mellett olyan extrém esetek is előfordultak, hogy a tulipánkereskedelem okozott brutális válságot, sőt a tőzsdézés hajnalán egy olyan cég árfolyama is elszállt, amely a növényekből akarta kinyerni a nap fényét. Összeszedtük a történelem tíz legendás válságát; némely ezek közül kifejezetten abszurd tanulságul szolgál azoknak, akik a tuti üzletet keresik a gyors meggazdagodás reményében.
Az első válság, valutamanipuláció és spekulatív krízis
Az első feljegyzett pénzügyi válság, Kr. u. 33
A történelem első feljegyzett pénzügyi válsága az ókori Római Birodalomra sújtott le, 33 évvel az időszámításunk kezdete után. Nemcsak a krízist, hanem az arra született megoldást, a mennyiségi lazítást is Tiberius császárnak köszönhetjük, aki Kr. u. 14 és 37 között uralta a birodalmat.
A krízist egyszerre számos tényező összefonódása okozta: az elefántcsont és a strucctoll árfolyama összeomlott, egy nagy kereskedőház csődbement a föníciai munkások sztrájkja miatt, mindez pedig kihatott két nagy római bankra, a Quintus Maximusra és a Lucious Vibóra is. Emellett Észak-Galliában lázadás tört ki, ahol rengeteg római befektető tőkéje elégett, a mezőgazdaság pedig évek óta gyengélkedett.
A bombát Publius Spencer, egy vagyonos nemes robbantotta ki, aki 30 millió szesztercius kölcsönt akart felvenni a bankárától, aki a kérést nem tudta teljesíteni és csődöt jelentett. A következő napokban végigsöpört a bankszektoron egy komolyabb válsághullám: Korinthusban, Karthágóban, Lugdunumban és Bizáncban sorra zártak be a pénzintézetek, hitelezők. Egyes bankok úgy akartak védekezni, hogy visszahívták a hiteleik egy részét, ami bedöntötte a földárakat és az ingatlanárakat is.
Tiberius úgy kezelte a helyzetet, hogy 100 millió szesztercius kamatmentes hitelt osztott szét a megbízható bankárok közt, a felpörgő hitelezés pedig megállította az ingatlanpiac és a bankok összeomlását is.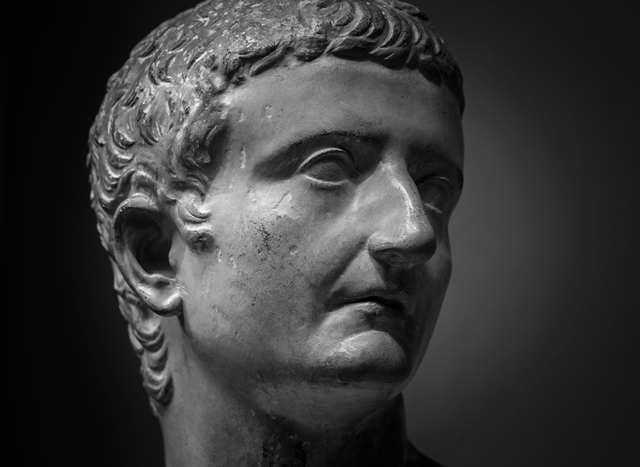 Tiberius császár. Kép: Shutterstock
Az első valutamanipulációs válság, 1621-1623
A világ első, nagyban játszó valutamanipulátora a Német-római Császárság (másnéven Szent Római Birodalom) volt, amely a harmincéves háborúban való részvételét akarta valutadevalvációval finanszírozni, hatékony adórendszer akkoriban ugyanis még nem létezett.
A birodalom persze nem a saját pénzének értékét rontotta le; összeszedték egyes külföldi országok, városok valutáit, beolvasztották a fémpénzeket, majd újrakovácsolták őket alacsonyabb nemesfém-tartalommal. A cél az volt, hogy ne a saját gazdaságukat tegyék tönkre a gyakorlattal, hanem igyekeztek a pénzt minél messzebbre vinni, egy idő után azonban egyre szélesebb körben értesültek a gyakorlatról az érintettek, az alacsonyabb értékű érmék egy jelentős része pedig visszatalált a birodalomba.
Kisebb lázadások törtek ki, a zsoldosok nem voltak hajlandóak a devalvált pénzért harcolni, a régió nagyobb városállamain pedig mind gazdasági káosz lett úrrá.
A devalválást 1623-ban beszüntették, a séma azonban megismétlődött Ausztriában, Magyarországon, Bohémiában és Lengyelországban is, bár kisebb mértékben.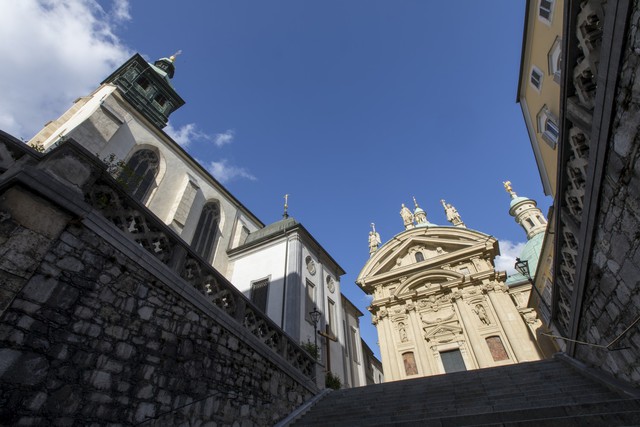 II. Ferdinánd mauzóleuma. Az ő uralkodása alatt zajlott a kétes etikájú gyakorlat. Kép: Shutterstock
A világ első spekulatív válsága, 1637 körül
Bár szintén nem a részvénypiachoz köthető, a világ első feljegyzett spekulatív válsága az 1600-as évek közepén tomboló Holland tulipánőrület volt.
Az 1500-as évek végén kerültek először tulipánok Hollandiába és egy furcsa vírus terjedt végig rajtuk, amelytől lángnyelv-szerű minták jelentek meg a szirmaikon. Az ilyen virágok iránti kereslet repítette a levegőbe a tulipánhagymák árát.
A rali csúcspontján egy hagyma tízszer annyit ért, mint egy kézműves mesterember éves fizetése. Több hektárnyi földet, kastélyokat cseréltek el egy-egy tulipánhagymáért,
majd amikor beszakadt az ár, miután egyes nagyobb befektetők elkezdtek kiszállni a piacról, egy fej vöröshagymával egyenértékűvé vált a tulipán árfolyama.
A válságról egyébként Charles Mackay 1841-es könyve ír részletesen, számos történész cáfolja annak hitelességét, elsősorban a feljegyzések és források hiánya miatt.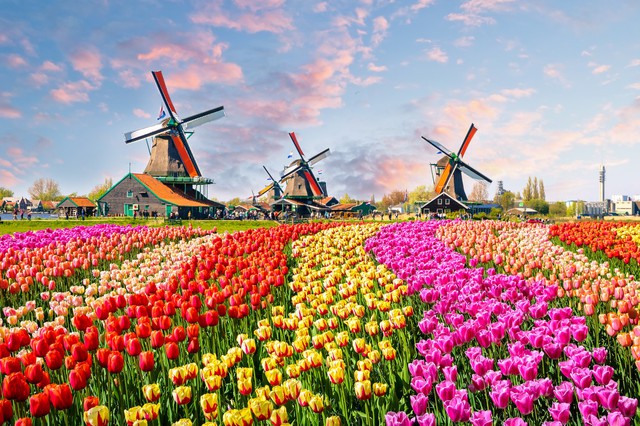 Nem véletlen, hogy a tulipánok Hollandia egyik nevezetessége a mai napig. Kép: Shutterstock
Az első részvénypiaci pánik, nagy amerikai válság és "fekete péntek"
Az első részvénypiaci pánik, 1711-1720
A világ első, valóban tőkepiaci pánikja az 1700-as évek Brit Birodalmán söpört végig.
A birodalom akkoriban a fél világot meghódította, a brit szigetek állampolgárai pedig rendkívül jól éltek, sokan kerestek befektetési célpontot a pénzüknek. Erre kínált látszólag kiváló lehetőséget a South Sea Company részvénye, amely nemcsak szélesebb körben volt elérhető, mint például az East India Company papírjai, hanem a vállalat gyakorlatilag monopóliumot kapott a Dél-Amerikával való kereskedelemben, ezért jó hosszú távú kilátásokkal kecsegtetett.
Az SSC azonban nem tudta beváltani a hozzá fűzött ígéreteket, a monopóliumot nem tudták kihasználni és a cég nyeresége elenyésző volt, a vállalatirányítást pedig megmérgezte a korrupció és a bennfentes kereskedés. A lufi akkor pukkadt ki, amikor 1720-ban a menedzsment eladta a részvényeit, amikor rájöttek, hogy annak ára közel sem tükrözi a cég értékét.
Ekkor a kibocsátás óta tapasztalható, 850% körüli emelkedést produkáló részvény árfolyama visszaesett négy hónap alatt a kibocsátási árfolyamra.
Ez önmagában is jelentős kárt okozott, azonban az igazi, Európát átjáró összeomlás akkor következett be, amikor az összes, az SSC-ralin hízó vállalat részvényei is kipukkadtak. Olyan nagyvállalatok részvényárfolyama is összeomlott, mint a Mississippi Company, nem is beszélve az olyan eszetlen cégekről, amelyek azon dolgoztak, hogy a zöldségekből kinyerjék a napsütést vagy éppen Nagy-Britannia területét úgy növeljék, hogy a vízre építenek kastélyokat.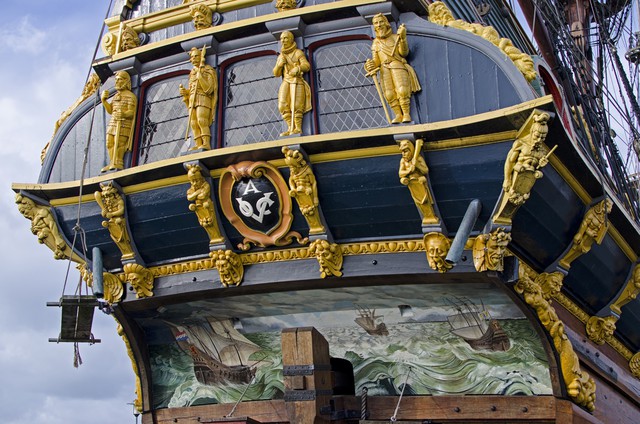 Az akkor szintén rendkívül jelentős befolyással rendelkező East India Company hajójának reprodukciója. Fotó: Shutterstock.
Az első nagy amerikai válság, 1819
1819 hozta el az Egyesült Államok történelmének első nagyobb békebeli gazdasági válságát, amely közel három évig tombolt az országban.
Az 1812-es háború után megnőtt Európában a kereslet az amerikai árucikkek iránt, a spekulánsok ingatlant és földeket kezdtek el vásárolni befektetési céllal, hitelhez könnyű volt hozzáférni. A The Second Bank of the United Statesnek kellett volna stabilizálnia a gazdaságot, ahogy a lufi kezdett kipukkadni, de ahelyett, hogy a dollárt szabályozták volna, még több likviditást öntöttek az eleve túlfűtött gazdaságba.
A végső löketet az összeomlás felé egy jó európai mezőgazdasági szezon adta meg, az amerikai áruk iránti kereslet radikálisan lecsökkent, a mezőgazdasági szektor bedőlése pedig magával rántotta az ingatlanpiacot és a rosszul menedzselt, korrupcióban fuldokló bankokat is.
Az amerikai börtönök megteltek adósokkal, azok pedig, akik megúszták, hosszú évekre elvesztették a papír alapú pénzügyi rendszerbe iránti bizalmukat.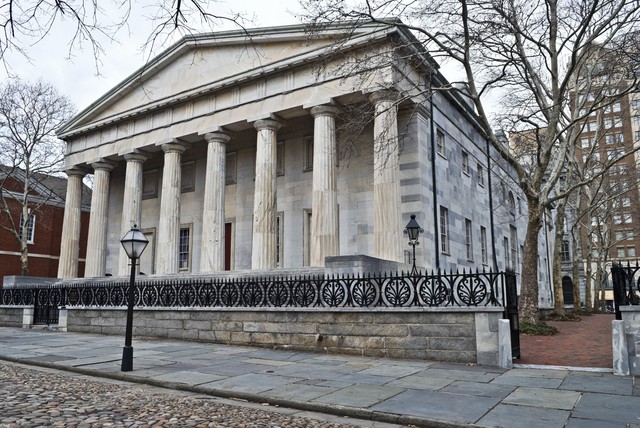 A The Second Bank of the United States mai napig álló épülete. Kép: Shutterstock
Az első fekete péntek, 1869
Az első "fekete péntek" néven elhíresült tőzsdei összeomlást két spekuláns, Jay Gould és Jim Fisk okozta, akik az aranypiacon akartak nagyot robbantani.
A két spekuláns azt találta ki, hogy fokozatosan elkezdik felvásárolni azt a minimális aranykészletet, ami az amerikai piacon forgott, így felhajtván az árakat, majd eladják a nemesfém-kitettségüket.
A tervük egyetlen akadálya Ulysses S. Grant elnök volt, aki mozgatni tudta a kincstáron keresztül az arany árfolyamát (ha túlzottan emelkedett az arany árfolyama, a piaci áron alul értékesítette az aranytartalék egy részét, így szinten tartva az árakat).
Sógorán keresztül meg is győzték az elnököt arról, hogy hagyja az árakat szabadon mozogni és el is indult a séma, az arany árfolyama több mint 20%-ot ugrott pár hét alatt, a legnagyobb ugrás napon belül 11% volt. Grant persze gyorsan rájött a manipulációra és utasítást adott a kincstárnak arra, hogy árasszák el arannyal a piacot, 4 millió dollárnyi nemesfémet adtak el csak az első nap.
Az arany árfolyama 16 százalékot, a tőzsde 20 százalékot, a búza és kukorica ára pedig 50 százalékot esett az ominózus fekete péntek hatására, az Egyesült Államok gazdasága pedig recesszióba fordult.
Fisk és Gould is megúszta egyébként az ügyet, főleg Gould járt jól, aki még azelőtt értesült Grant elnök tervéről, hogy az akcióba lépett volna és még időben eladta az arany-kitettségének jelentős részét (társának persze nem szólt). Haláláig befolyásos Wall Street-i szaktekintélyként tisztelték.

Jay Gould. Fotó: Shutterstock
A legnagyobb válság, napon belüli esés, tech-válság és az életünket leginkább befolyásoló válság
A történelem legnagyobb válsága, 1929-33/39
A nagy gazdasági világválságot számos tényező okozta és számos egymással ellentmondó teória hivatott megmagyarázni a létrejöttét.
A háború után rengeteg amerikai költözött a városokba és halmozott fel magának jelentős vagyont, sokan a tőzsdén kezdtek spekulálni és bizonyos részvények árfolyamát indokolatlanul felfújták. A Fed erre kamatot emelt, 3,2%-ról 5%-ra, amit lekövettek a világ jegybankjai is, ez pedig lerántotta a részvénypiacokat, deflációt és romló likviditást eredményezett.
Közben a mezőgazdasági szektorban jelentős túltermelés mutatkozott, mivel a piacot hitelből igyekeztek hevíteni a gazdák, a megszerzett bevételt viszont fogyasztás helyett az adósság törlesztésére fordították.
Bár az amerikai recesszió már 1929 augusztusában megindult, a válság kezdetét a legtöbben október 24-ére teszik, amikor a New York-i tőzsde összeomlott. A pánik október 28-án tetőzött, amikor a Dow Jones 12,8 százalékot zuhant egy nap alatt.
A kirobbanó válság az egész világgazdaságra átgyűrűzött, különösen az olyan országok jártak rosszul, mint például Németország, ahol a háborús jóvátételek fizetésével küszködtek, vagy a trianoni békeszerződés hatásától szenvedő Magyarország. A krízist sok ország a második világháborúig nem tudta kiheverni, amelynek kirobbanásához közvetetten hozzájárult a világválság maga is.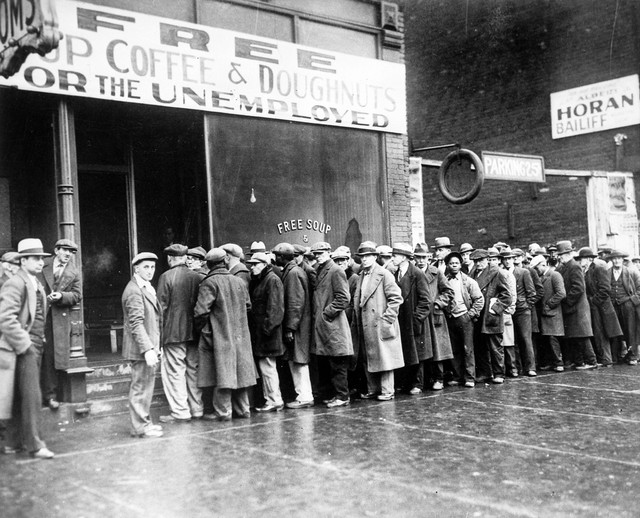 Ezen a képen épp Al Capone konyhája előtt állnak sorba levesért a bajba jutott munkások. Fotó: Shutterstock
A legnagyobb napon belüli esés, 1987
Az amerikai tőzsde legnagyobb napon belüli esését 1987 október 19-én, az ominózus "fekete hétfőn" produkálta, amikor
a Dow Jones Industrial 22,61%-os mínusszal zárta a kereskedést.
Itt is számos tényező összegyűlt: az olajárak 50%-ot estek, 1987-ben a Dow pedig túlfutott, 44%-os emelkedést produkált. Nem volt elhanyagolható tényező az sem, hogy előtte pár nappal a londoni tőzsdét bezárták egy masszív ciklon miatt, valamint hogy Irán elsüllyesztett két amerikai teherhajót Shang You rakétákkal.
Sok elemző az algoritmus-alapú programok befolyásával magyarázza az összeomlást, miután helyreállt a kereskedés, több új tőzsdei szabályozás is megszületett.
Ahhoz, hogy végül tartós válsággá alakult a tőzsdekrach, Irak 1990-es kuvaiti inváziója is hozzájárult (ami pedig felrántotta az olajárakat), az Egyesült Államok mellett recesszióba fordult az Egyesült Királyság, Ausztrália és Finnország is.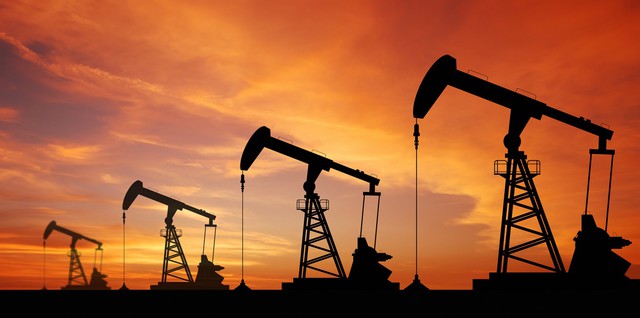 Az olajpiac is kivette a részét az összeomlásból. Fotó: Shutterstock
A legnagyobb tech-lufi, 1999-2001
A Dotkom-lufi az internet megjelenésével és elterjedésével fújódott fel, a '90-es évek elejétől, közepéről kezdtek el egyre többen spekulálni arra, hogy a világháló meghódítja majd a bolygót.
1995-től 2000-ig a Nasdaq 400%-ot emelkedett, a kockázati tőkealapok és a lakossági befektetők bárminek a papírjait megvették, ami számítástechnikával foglalkozott.
A hagyományos mutatókat, mint a P/E ráta, többnyire figyelmen kívül hagyták és a technológia fejlődését túlbecsülték a spekulánsok, így amikor az ezredfordulón kipukkadt a lufi, egyes vállalatok, mint a Webvan vagy a Pets.com csődbe mentek, míg az olyan cégek, mint például a Cisco, 86%-os árfolyamesést szenvedtek el.
Ha egyébként valaki akkor jó lóra tett és nem ijedt meg a visszaeséstől, az Amazon részvényével például mára már több mint 700%-ot kereshetett akkor is, ha a Dotkom-őrület tetején szállt be.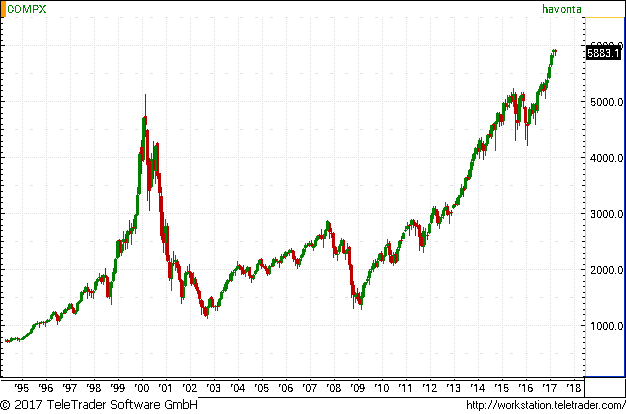 A Nasdaqon a mai napig látszik a dotkom lufi. Kép: Teletrader.
Az életünket legjobban befolyásoló válság, 2008-2009
A 2008/2009-es gazdasági világválságot a történelem második legnagyobb válságaként tartják nyilván, a részletekben fölösleges elmerülnünk, hiszen hatásait a mai napig érezhetjük.
A krízis az amerikai jelzáloghitel piac összeomlásával indult, majd a Lehman Brothers 2008. szeptember 15-ei csődje után nemzetközi bankválsággá fajult. A világ pénzügyi rendszere csak azért nem omlott össze, mert a jegybankok számos pénzintézetet megmentettek, több nemzetközi nagybank fúzióra kényszerült.
A pénzintézeteket olyan törvényekkel igyekeztek stabilizálni, mint a Dodd-Frank törvény (amit Trump elvileg eltörölni tervez), valamint a Bázeli Testület tőke- és likviditási szabályai.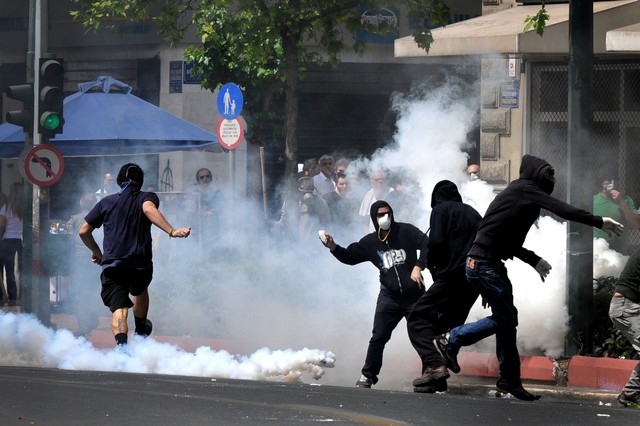 Tüntetők a válság idején. Kép: Shutterstock.
Források: The Richest, Investopedia, Wikipedia, Fortune, CNBC, Business Insider, Telegraph

---
www.portfolio.hu
http://www.portfolio.hu/befektetes/10_orult_piaci_osszeomlas_ami_brutalis_valsagot_okozott.248117.html