Már itthon is kutatják, mi mindenre lehet jó a Bitcoin titokzatos technológiája
2017.07.22 Portdolio.hu Tuan Anh Trinh, Szegő Dániel
A blockchainről – vagyis magyarosan blokkláncról – szóló szakmai cikksorozatunk első részében a technológia működését mutattuk be, a mostani cikkünkben a blokklánc alapú rendszerek létező és lehetséges alkalmazásait vesszük sorra, és azt is megmutatjuk, Magyarországon milyen területeken foglalkoznak a blockchainnel.
Blokklánc alapú alkalmazásfejlesztés – a monolit rendszerektől a platform megoldásokig
Általánosságban elmondható, hogy a blokklánc alapú alkalmazások architektúrája elég sokat fejlődött az elmúlt évek során (első ábra). A kezdeti rendszerek, mint például a Bitcoin nem pusztán egy alkalmazást valósítottak meg, ami ebben az esetben a Bitcoin küldése, hanem a teljes infrastruktúrát, blokklánc protokollt és üzleti logikát is.
Későbbiekben platformok, mint például az Ethereum vagy a Multichain egyre inkább csak a spektrum egyik felére, az infrastruktúrára koncentrálnak, és olyan általános keretrendszereket valósítanak meg, melyek segítségével különböző decentralizált alkalmazások implementálhatóak. Ezzel szemben napjaink legtöbb blokklánc alapú alkalmazása nem valósít meg saját blokkláncot, hanem egy vagy több már meglévő általános platform segítségével épül fel. Példaként megemlíthetőek a Peer-to-Peer hitelezési alkalmazásokat, mint BitcoinLedningClub vagy ETHLend, melyek a Bitcoin és Ethereum blokkláncon alapulnak.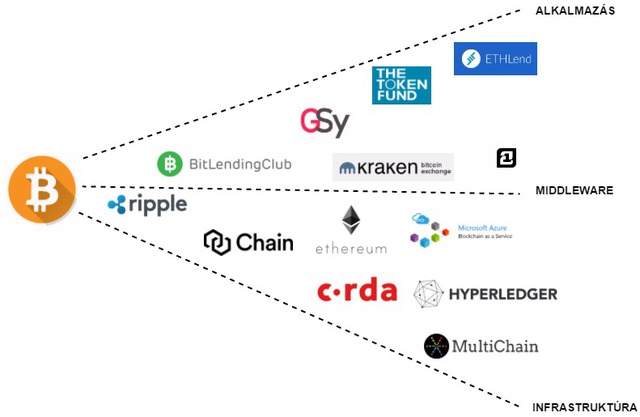 Alkalmazások és infrastruktúra szétválása a blokklánc alapú megoldásoknál.
Az utóbbi időben a blokkláncon alapuló rendszerek még komplikáltabbá váltak, és megjelentek olyan platformok, amik az alkalmazás és infrastruktúra réteg között lévő – úgynevezett middleware – szolgáltatásokat nyújtanak. Példaként említhető az Azure Blockchain as a Service, mely hosting és blokklánc integrációs szolgáltatásokat nyújt már létező blokklánc infrastuktúrális rendszerekhez. Egy másik tipikus middlewarenek tekinthető például a Kraken, mely különböző kriptovaluták között biztosít átváltási szolgáltatásokat.
Blokklánc alapú pénzügyi alkalmazások stratégiai térképe
A blokklánc alapú alkalmazások első nagy átütő sikerét a kriptovaluták a direkt pénzküldéshez kapcsolódó szolgáltatások területén érték el (második, harmadik ábra). A különböző kriptovaluta rendszereknél az alapfeltételezés, hogy maga a "pénz" pusztán csak elektronikus információ, melyet egy blokklánc alapú infrastruktúra segítségével lehet egyik tulajdonostól egy másiknak küldeni.
A legismertebb és legsikeresebb kriptovaluta a Bitcoin, kevésbé elterjedt például a Litecoin. Egy másik megközelítés szerint elektronikus pénzküldés megvalósítható indirekt módon is pusztán csak a blokklánc infrastruktúráját, és kissebb részt az adott kriptovalutát használva. Erre a modellre épül például a Ripple, mely bankok közötti pénztranszferre valósít meg konzorcium blokklánc megoldást, vagy a Xoom, ahol egyes transzfer szolgáltatásokban a klasszikus valutákat átváltják Bitcoinra, majd ha megérkezett a címzetthez, akkor azonnal vissza is váltják.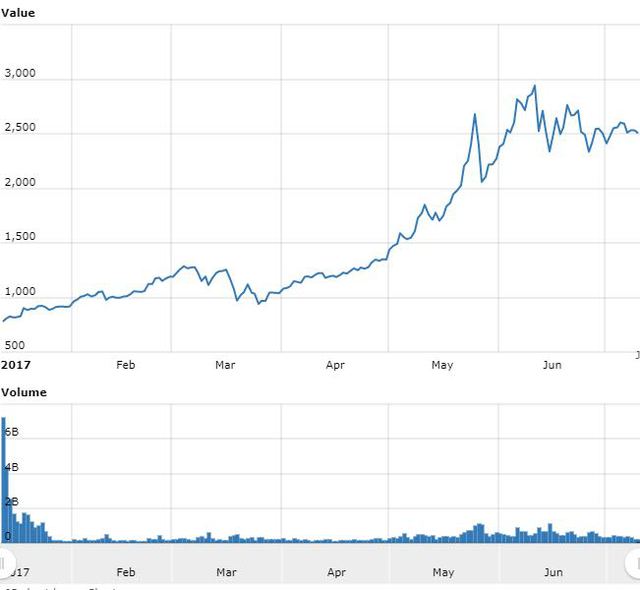 A Bitcoin árfolyama és dinamikája az USD-hez képest 2017-ben (forrás: https://www.worldcoinindex.com/)
Napjaink egyik legújabb és a legdivatosabb témája az ún. token alapú gazdaság. Egy token egy decentralizált alkalmazáshoz való hozzáférést, használati jogot vagy esetleg kvázi tulajdonjogot valósít meg, mellyel általában kereskedni is lehet. Az alkalmazás nem szigorúan értelembe véve pénzügyi alkalmazás. Mivel azonban a tokeneknek egyrészt gyakran van egy kezdeti áruk, másrészt általában kereskedni is lehet velük, ezért gyakorlatilag a token rendszer az alkalmazás finanszírozását valósítja meg, hasonló módon, mint ahogy egy kockázatitőke-befektető cégeket finanszíroznak.
Másképpen fogalmazva, a token ebben a kontextusban olyan, mint egy társaságban való részesedés, de sok egyéb jellemző és védelem nélkül. A tokenekből felhasznált pénz új blokklánccal kapcsolatos projektek létrehozására szolgál, és a tokenek tulajdonosai részesedéssel rendelkeznek ezekben az innovációs projektekben.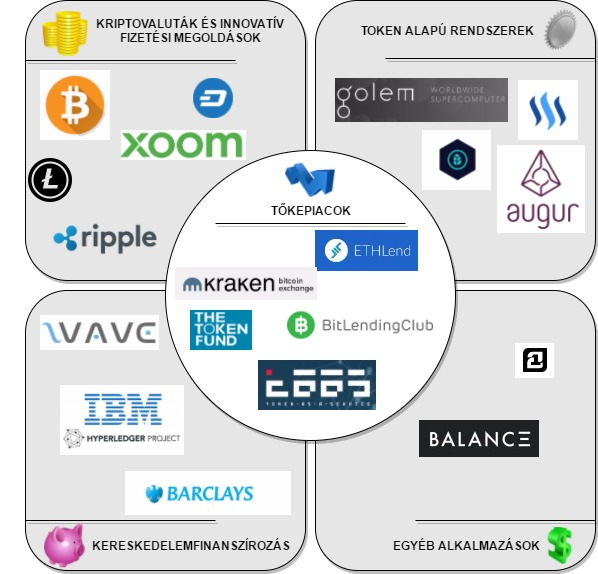 A blokklánc alapú pénzügyi alkalmazások stratégiai térképe
Példának megemlíthetjük a Golem nevű decentralizált alkalmazást, mely segítségével elosztott számítógépes erőforrásokat és távoli számítási kapacitást lehet igénybe venni. Itt egyrészt az igénybe vett erőforrás nagyságát és a rendszer használati jogát speciális tokenekkel szabályozzák. Másrészt a teljes alkalmazás és más induló vállalkozások finanszírozását is úgy oldották meg, hogy bizonyos számú tokent a rendszer indításának béta-fázisában piacra dobtak.
Az induló vállalkozások kriptovaluta alapú finanszírozása esetén elsődleges kriptovaluta kibocsátásról beszélünk (szakmabeli terminológiában az ún. ICO, vagyis Initial Coin Offering kifejezésnek a rövidítése). Az ICO olyan adománygyűjtési vagy befektetési esemény, ahol egy vállalkozói csoport pénzt gyűjt saját "tokenek" létrehozásával és értékesítésével egy blokklánc platformon, általában Ethereumon vagy Bitcoinon keresztül.
A gyakorlatban az induló vállalkozás az ICO-t arra használják, hogy megkerüljék a kockázatitőke-befektetők vagy bankok által megkövetelt szigorúan szabályozott tőkeemelést. Hasonló példaként megemlíthető a Steem, decentralizált közösségi háló, vagy az Augur, eloszott predikciós piac.
Jelenleg a kereskedelemfinanszírozás (trade finance) folyamata nagy mértékben papír alapú, bonyolult és költséges. A bankok úgy látják, a kereskedelemfinanszírozás az a terület, ahol a lehető legnagyobb mértékben profitálhatnak a blokklánc technológiájának előnyeiből. A blokklánc technológia azokkal a tulajdonságokkal rendelkezik, amelyek megvédik az adatokat a manipulációtól, és azonnal frissítik az érintett feleknél rendelkezésre álló információkat, lehetővé teszik a titkosított adatok megosztását a kereskedő vállatok, a hitelező intézmények és az emberek között.
A blokklánc technológián alapuló okos szerződések automatizálják és összehangolják a keletkezett fizetéseket, hitelezéseket és a logisztikai folyamatokat.
Konkrét példaként említenénk azt a eseményt , amikor a Barclays és az izraeli startup Wave 2016 szeptemberében az első kereskedelemfinanszírozási tranzakciót sikeresen hajtotta végre egy blokklánc platformon keresztül. Garantálták két kereskedő fél közel 100.000 dolláros sajt- és vajexportját Írország és a Seychelles szigetek között. Ez a megoldás automatizált és tömörített egy olyan kereskedelemfinanszírozási folyamatot, amely ebben az esetben általában hét-tíz napig tart. A blokklánc technológia alkalmazásával az egész folyamat kevesebb, mint négy órát vett igénybe.
Nagyvállalati szinten nemrég Európa legnagyobb bankjai (a Deutsche Bank, a HSBC, a KBC, a Natixis, a Rabobank, a Société Générale és az UniCredit) megbízták az IBM-t arra, hogy új blokklánc alapú platformot építsen a kisvállalkozások számára a régió határokon átnyúló megrendeléseinek finanszírozására.
Számos áltlános tőkepiaci vagy inkább "kripto-tőkepiaci" szolgáltatás is jelen van a piacon. A spektrum elég széles kezdve az különböző kriptovaluta váltó szolgáltatásokkal (pl. Kraken), a Peer to peer hitelszolgáltatásokon keresztül (pl BitCoinLedningClub) a komplex kriptoportfoliókig, mint például a The Token Fund.
Végül, de nem utolsó sorban érdemes megemlíteni olyan alkalmazásokat, melyeket egyelőre nehéz kategóriába sorolni. Ilyen például a kettős könyvelés blokklánc alapú kiterjesztése, a hármas könyvelés (pl. Balance3), vagy pedig azok a pénzügyi műveletek, amelyeket nem személyek, hanem számítógépek és algoritmusok végeznek (pl. 21co).
Hazai blokklánc alapú alkalmazások és fejlesztések
A Shinrai magyar startup pénzügyi szolgáltatók számára olyan technológiai megoldásokat kínál a Bitcoin fizetési lehetőségeinek integrálására a meglévő rendszerekbe anélkül, hogy jelentős beruházásokat eszközölnének a digitális pénznemeket támogató összetett infrastruktúrák fejlesztése érdekében. Lehetővé teszik az ügyfeleik számára, hogy bármikor, bárhonnan zökkenőmentesen végezzenek Bitcoin tranzakciókat.
A Digital Asset Hungary Kft. – a Digital Asset Holdings leányvállalata, amely mögött a világ legnagyobb bankjai állnak, részt vett egy olyan blokklánc alapú platform kifejlesztésében, amelyben a kereskedők a bizalmas információk elrejtésével kereskedhetnek. A Digital Asset platformja megoldja az adatvédelmi kérdéseket úgy, hogy a tranzakciók elosztott könyvelését két részre osztja: az egyik, ahol a résztvevők bizalmasan tárolhatják tranzakciós adataikat, és egy másik, amelyet a résztvevők megosztanak a bizalmas adatok nélkül.
Továbbá a Corvinus Fintech Centerben fejlesztés alatt álló, blokklánc alapú rendszert említenénk még, amely hatékonyan és biztonságosan kezeli és nyomon követi a használtautó piacon végzett kereskedéseket és tranzakciókat. Az alapgondolat az a megfigyelés, hogy egy jármű életútjának dokumentálása már az autó legyártásával elkezdődik, és ideális esetben a bontásig tart. Ezalatt többször cserél gazdát, és az állapota is jelentősen változik. A jármű életútjának követésére – hasonlóan a gyémántok kereskedelménél alkalmazott Everledger platform – a blokklánc technológia alapú szolgáltatás fejlesztésén dolgoznak a Corvinus Fintech Center kutatói. A használtautók paramétereinek és az üzletek részleteinek nyilvántartását a nyílt forráskódú Hyperledger blokklánc platform főkönyvében vezetik, így nyomon követhető a használt autók eredete és az üzletek háttere, ezzel maximálisan csökkenthető az esetleges csalások lehetősége.
Záró gondolatok
A blokklánc technológia megállíthatatlan ereje lassan, de lépésről lépésre szerves része lesz a modern pénzügyi rendszerek infrastruktúrájának: a digitális pénzügyektől kezdve a kereskedelemfinanszírozáson keresztül a token alapú gazdaságig. A technológia nem feltétlenül egzisztenciális fenyegetés azoknak az inkumbens szereplőknek, akik az új technológiai paradigmát magukévá teszik és innovációt hajtanak végre a szervezeten belül. A korábbi paradigmaváltásokhoz hasonlóan a blokklánc nyerteseket és veszteseket fog létrehozni. Reményeink szerint a blokklánc alapú pénzügyi platformok a jólét platformjai lesznek mindenki számára.
Névjegy
Szegő Dániel, független blockchain tanácsadó, elvégezte a Certified Bitcoin Professional, MIT Fintech, MIT Cybersecurity képzéseket, pillanatnyilag a Microsoft Azure Blockchain as a Service témakörrel kapcsolatban dolgozik projekteken Frankfurtban.
Dr. Tuan Anh Trinh, a Corvinus egyetemi docense, a Corvinus Fintech Center vezetője, 2006 óta az MTA köztestületi tagja, a Budapesti Műszaki és Gazdaságtudományi Egyetem doktora.
---
www.portfolio.hu
http://www.portfolio.hu/vallalatok/mar_itthon_is_kutatjak_mi_mindenre_lehet_jo_a_bitcoin_titokzatos_technologiaja.257169.html